Find out all you need to know about about our bin collection service.
We collect your household bins every week or every fortnight. Make sure you put your bins out for collection the night before, as the collection starts early.
Where and how should I place my bins?
Put your bins on the nature strip, ensuring that you:
don't overload your bins (maximum 75kg)
don't place items on top of or next to your bins
try and bring in your bin on the day we collect it
bins can be placed on driveways to ensure they are accessible for collection
leave at least half a metre between bins and other objects
place your bins facing towards the road
avoid trees, parked cars and overhead power lines.
When is my bin collection day?
green bin food and garden waste: once a week
red bin general waste: once a fortnight
yellow bin recycling: once a fortnight
Hard rubbish, bulk carboard and bundled branches: you need to book a collection
Your regular collection day will vary depending on where you live, but it will be on a week day. We even collect rubbish on public holidays.
Collection starts very early, so we recommend you put your bins out the night before.
Find your collection day
To find your collection day, enter your address on our search page or see the map below.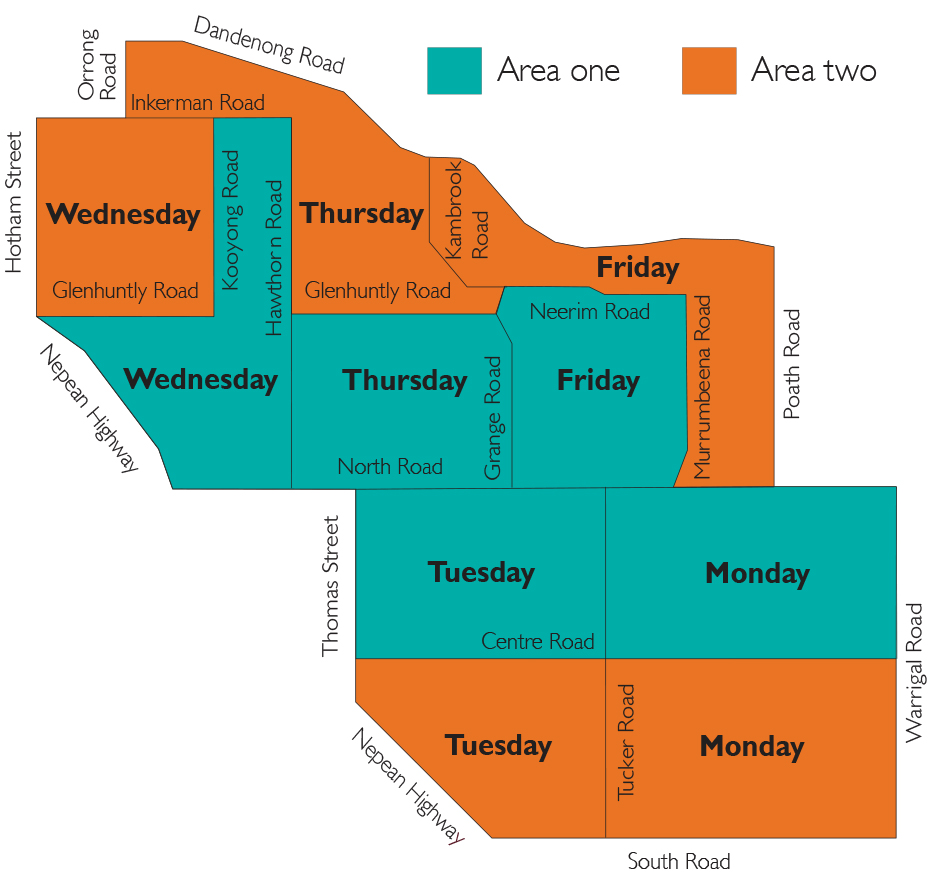 The truck missed my bin — what do I do?
Leave your bin on the nature strip in case the truck is late. Trucks don't always visit your street at the same time of day.
Please note that due to current health and safety practices, manual handling of bins is being avoided. Please make sure your bins are placed in a spot that is easily accessible for the rubbish or recycling truck — do not put them behind other bins, trees, poles or parked vehicles. Bins can be placed on your driveway for collection.
If your bin is not in an accessible position and cannot be emptied, the driver will note that the bins for your address were not collected and a waste collection truck will return later that day to re-attempt collection.
If the bins are not accessible on your collection day, a truck will return by Saturday to empty them. Please report your missed bin on our online request system or by calling us on 9524 3333. Please leave your bins out in an accessible position on the kerb or in your driveway ready for collection.
What if I put my bin out too late, or not at all?
It's your responsibility to put your bin out on time and it's not practical for the garbage truck to return. Please ensure you put your bin out the night before collection.
My bin has gone missing
We'll replace missing bins at no charge. Contact us on 9524 3333.
My bin is damaged
We'll repair or replace your damaged bin. Report your damaged bin on our online request system or by calling us on 9524 3333.
My bin has been left in my driveway or on the street after collection
If this happens, please let us know. We should return bins to the nature strip after we empty them.
My bin needs cleaning
We have negotiated an arrangement with The Bin Butlers who can offer you a competitive price on their bin cleaning. This offer is available to all Glen Eira residents with bin sizes up to and including 360L.
If you would like to book a bin cleaning service, contact Bin Butlers directly on 1300 788 123 or visit thebinbutlers.com.au*
To receive your discount when booking online:
go to website and click on shop
choose 1 OFF BIN CLEANING SERVICE
choose your options
go to cart or checkout
add your coupon code
your coupon code will be your postcode-40% (eg. 3204-40%)
*By accessing this link you will be leaving the Glen Eira City Council's website. If you engage The Bin Butlers' services, you will be entering into a separate transaction with The Bin Butlers, which is subject to The Bin Butlers' terms and conditions of use. Glen Eira City Council is not a party to and does not accept responsibility for any transaction between The Bin Butlers and its customers and is not liable for any loss or damage resulting from use of The Bin Butlers' website or services provided by The Bin Butlers.
Advice for householders regarding COVID-19
Below are some guidelines you can include in your daily routine in regards to COVID-19.
When you take your bin to the kerb, make sure you wash your hands before and after you bring it back in.
If you take a bin out on behalf of others, make sure you wear gloves and dispose of them appropriately.
For those with Coronavirus (COVID-19)
Put all of your usual items in your bin which goes out for kerbside collection. Wash your hands afterwards.
Please put the following disposable items into a sealed plastic or paper bag and into your bin:
tissues
cleaning cloths
masks
Put the bag in general waste (not recycle or green waste) for kerbside collection.
Put paper, cardboard and other recyclables that have mixed with the above disposable items into general waste as well.
Wash your hands straight after handling disposable items or items that have become mixed with them.
To help waste collectors:
Compact rubbish — if possible — before putting it in your kerbside general waste bin.
Don't compact waste that is already in the bin. It may become stuck and not empty properly.
Don't overfill waste or recycling kerbside bins or put them where they may easily tip over or spill.
Ensure you leave your bin in an unobstructed location.