Find out all you need to know about about our bin collection service.
We collect your household bins every week or every fortnight. Make sure you put your bins out for collection the night before, as the collection starts early.
Where and how should I place my bins?
Put your bins on the nature strip, ensuring that you:
don't overload your bins (maximum 75kg)
don't place items on top of or next to your bins
try and bring in your bin on the day we collect it
bins can be placed on driveways to ensure they are accessible for collection
leave at least half a metre between bins and other objects
place your bins facing towards the road
avoid trees, parked cars and overhead power lines.
When is my bin collection day?
green bin food and garden waste: once a week
red bin general waste: once a fortnight
yellow bin recycling: once a fortnight
Hard rubbish, bulk carboard and bundled branches: you need to book a collection
Your regular collection day will vary depending on where you live, but it will be on a week day. We even collect rubbish on public holidays.
Collection starts very early, so we recommend you put your bins out the night before.
Find your collection day
To find your collection day, enter your address on our search page or see the map below.
Download the bin collection calendar for 2022 to 2023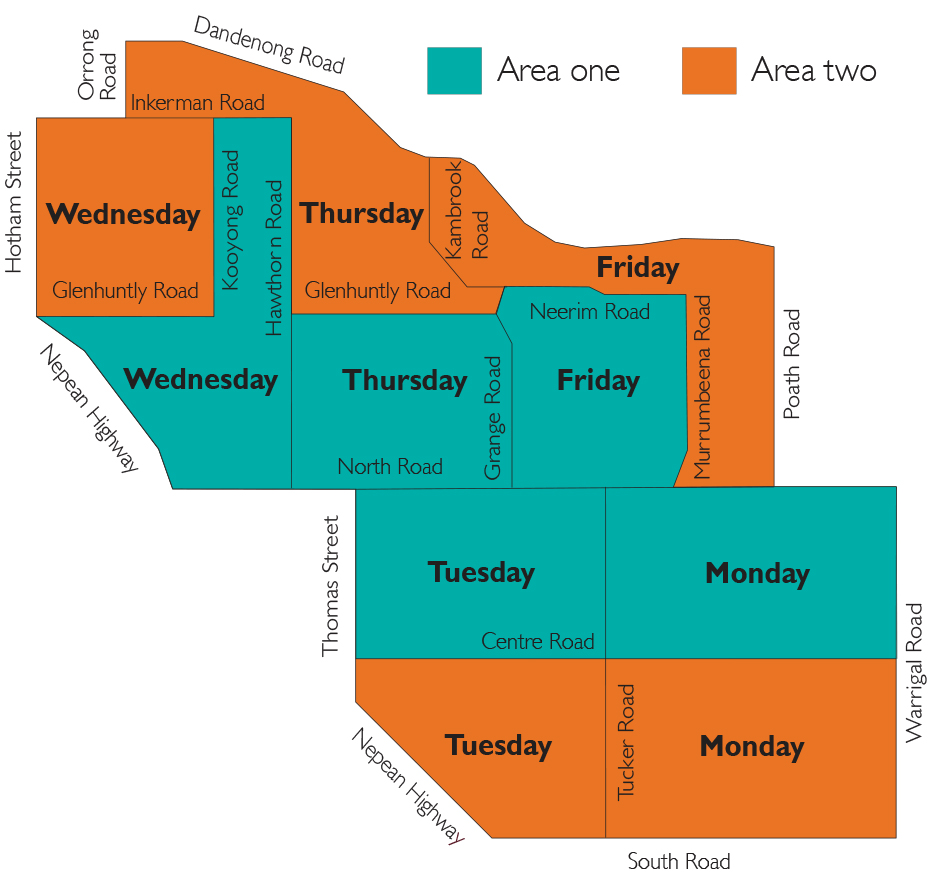 The truck missed my bin — what do I do?
Before reporting a missed bin:
Is it still your collection day? Please leave your bin out in case the truck hasn't come by yet — bins don't always get emptied at the same time each week.
Were roadworks or construction in the way? Please leave your bin out overnight, a truck will usually return the next morning to empty bins that were blocked by roadworks.
Is there a note on your bin? If there's a reason we cannot empty your bin (eg. it's too heavy or highly contaminated), our drivers may leave a note to explain the issue. Please fix any issues before reporting a missed collection.
How to report a missed bin
Please report your missed bin on our online request system or by calling us on 9524 3333. Please leave your bins out in an accessible position on the kerbside or in your driveway ready for collection.
Please make sure your bins are easy to access. We do our best to empty all bins and understand that sometimes they are blocked by other cars. To help ensure the truck can reach your bin, please avoid putting your bins behind other bins, trees, poles or under low hanging trees.
Remember bins can be placed on the edge of a kerb or on your driveway if needed.
What if I put my bin out too late, or not at all?
Please ensure you put your bin out the night before collection. It's your responsibility to put your bin out on time and it's not practical for the waste collections trucks to return.
My bin has gone missing
We'll replace missing bins at no charge. Contact us on 9524 3333.
My bin is damaged
We'll repair or replace your damaged bin. Report your damaged bin on our online request system or by calling us on 9524 3333.
My bin has been left in my driveway or on the street after collection
If this happens, please let us know. We should return bins to the nature strip after we empty them.
Advice for householders regarding COVID-19
Below are some guidelines you can include in your daily routine in regards to COVID-19.
When you take your bin to the kerb, make sure you wash your hands before and after you bring it back in.
If you take a bin out on behalf of others, make sure you wear gloves and dispose of them appropriately.
For those with Coronavirus (COVID-19)
Put all of your usual items in your bin which goes out for kerbside collection. Wash your hands afterwards.
Please put the following disposable items into a sealed plastic or paper bag and into your bin:
tissues
cleaning cloths
masks
Put the bag in general waste (not recycle or green waste) for kerbside collection.
Put paper, cardboard and other recyclables that have mixed with the above disposable items into general waste as well.
Wash your hands straight after handling disposable items or items that have become mixed with them.
To help waste collectors:
Compact rubbish — if possible — before putting it in your kerbside general waste bin.
Don't compact waste that is already in the bin. It may become stuck and not empty properly.
Don't overfill waste or recycling kerbside bins or put them where they may easily tip over or spill.
Ensure you leave your bin in an unobstructed location.