Hard rubbish, branches and cardboard
Your household can book up to three free collections (of each service) per financial year.
If your items are in good working order, you can also donate them. You can search our recycling A-Z guide to find an Op Shop, or contact Donate Direct to match items to those in need.
How do I book a collection?
Bookings can be made from one day to one week in advance. Hard rubbish and bulk cardboard collections are on the same day as your normal garbage service. If your collection day falls on a public holiday, it will be collected one working day before or after your normal collection day. 
Bundled branches are collected on Wednesdays. To book a collection use the links below or contact our customer service team.
When will you collect it?
We collect hard rubbish and bulk cardboard on your regular bin collection day. You need to make your booking before midnight the previous day. For example, if you make a booking on Monday and your bin collection day is a Thursday your items will be collected on the Thursday.
We collect bundled branches on Wednesdays. You need to make your booking before 3pm Tuesday for collection on the following Wednesday.
What can I put out in hard rubbish?
furniture, electronic equipment (size of a DVD player or larger) and appliances
doonas, blankets and pillows
up to one cubic metre of carpet
whitegoods (fridge doors must be removed)
mattresses
up to 10 small pieces of timber.
We may not collect everything at once. Separate trucks are used for different items.
We cannot collect:
car parts, batteries or tyres
gas bottles
chemicals or liquids
paint or oil
commercial or business waste
waste material from construction or demolition (timber, bricks, concrete, etc)
heavy items that can't be lifted by two people
broken glass
asbestos
Size limits:
Maximum of four cubic metres of hard waste.
Maximum length or height of two metres for single items.
See here for tips and transfer station locations who can accept some of these items. Please contact them directly to confirm. Fees may apply.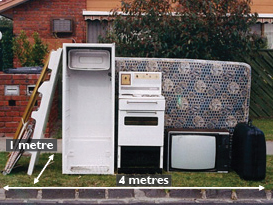 What can I put out in bundled branches?
We will collect:
If your branches are less than 7.5 centimetres thick, you must tie them in bundles with strong string, not pantyhose, plastic or wire.
We will not collect:
timber, stumps or roots
branches over 15 centimetres thick
soil-contaminated materials
boxes or bags of green waste - put these in your green bin
branches containing wire or nails
ivy, bamboo, vines, palm trees, thorny plants like rose bushes, weeds, grass or leaves
real Christmas trees, under two metres in length.
Size limits
Maximum bundles of two metres long and 30 centimetres thick.
Maximum of 20 bundled branches no more than three cubic metres.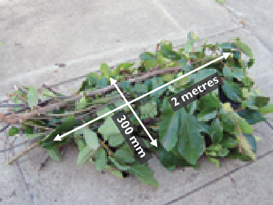 What can I put out for bulk cardboard?
We will collect:
You must tie your cardboard in a bundle with strong string.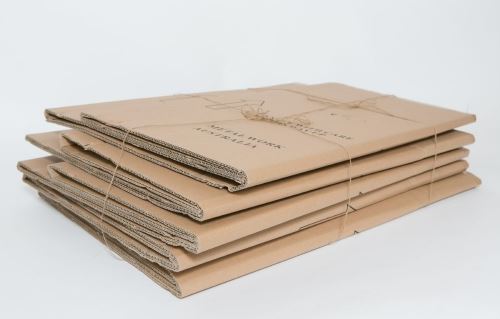 To book a hard rubbish, bundled branches or bulk cardboard collection use the button below or contact our customer service team.