Volunteering training and events
Glen Eira hosts training and events each year to upskill and celebrate the work of volunteers and volunteer managers.
Festability
On Friday 3 December, 4pm to 6pm we are celebrating International Volunteer Day and International Day of People with a Disability with a free online inclusive music and entertainment event.
​For more information and to register see our Disability Events page.
If you can't make 3 December don't worry, you have 7 days to watch the event.

Come along and join the fun, everyone is welcome!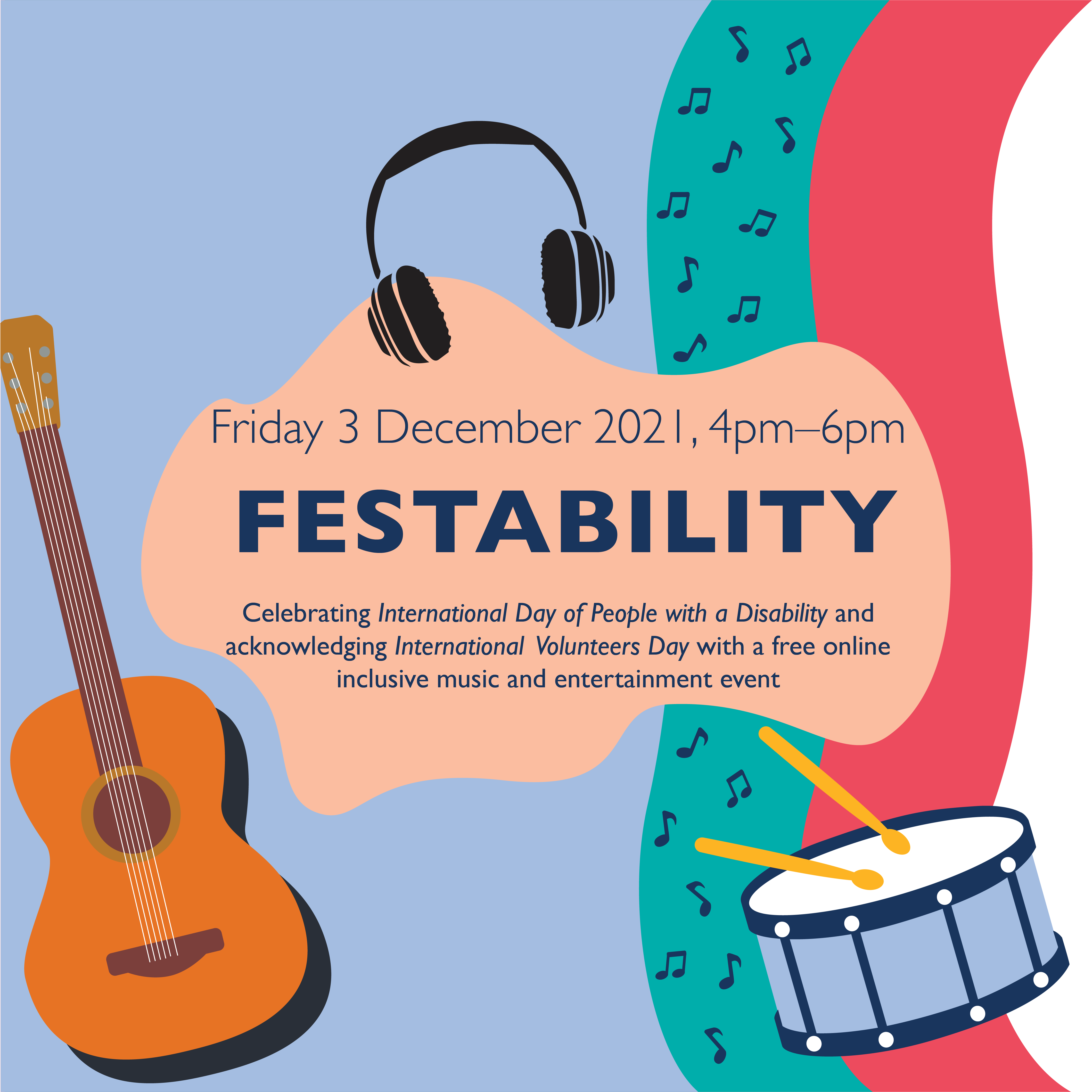 ---
National Volunteer Week celebrations – Share a video message
The theme for National Volunteer Week is 'Recognise. Reconnect. Reimagine'. Held 17–23 May 2021, the theme acknowledges it's time to:
recognise, celebrate and thank volunteers for the vital role they play in making our communities stronger, especially during times of need, crisis or isolation 
reconnect to what is important by giving our time to help others, our local community or a cause we value
reimagine how we better support volunteers and the organisations they help so that they can continue to do the necessary work that they do. 
View the video from our Mayor, volunteers and volunteer managers tell us why it's important to give your time to help others, your local community or a cause you value. Also, about how to celebrate and thank volunteers and better support them. 
Past volunteering training and events
International Volunteer Day online workshop
To celebrate International Volunteer Day, we held a webinar Let's celebrate our volunteers for volunteers and volunteer managers on 4 December 2020. Anne Coughlin, Manager from Community Information and Support, Glen Eira, spoke about how their Volunteer Resource Program supports local organisations seeking volunteers and matching volunteers to opportunities. Sara Sterling, Sector Development Manager from Volunteering Victoria, presented the newly released State of Volunteering Report and shared the findings about the future of Volunteering in Victoria.
Restarting your volunteer program in the COVID-19 world 
We hosted an informative online workshop on how to restart your volunteer program in the COVID-19 world in August and September 2020. Volunteering Victoria ran the workshop, which looked at the COVID-19 situation, and the unique considerations that volunteer involving organisations must weigh up to begin delivering their volunteer programs in a safe manner.
National Volunteers Week 2020
To celebrate National Volunteers Week (18–24 May 2020), we hosted a podcast on Volunteering in challenging times. Amy Moore, Co-ordinator of Diversity and Inclusion, led a discussion with engaging stories and valuable insights from Scott Miller (CEO Volunteering Victoria), Thirumagal Arunachalam Elanthendral (RMIT Engineering student, Robotics Mentor and Volunteer) and Arnold Zable (highly acclaimed novelist and recipient of Glen Eira Council Volunteer Recognition for his 20 years of service for The Kadimah Jewish Cultural Centre and National Library). Watch or listen to the podcast below.
Related volunteering pages