Published on 09 September 2021
Elsternwick Cultural Precinct
The Elsternwick Structure Plan creates a strategic vision to establish a new Cultural Precinct, centred around Selwyn Street.
In November 2018, Council endorsed a Cultural Precinct Plan to inform future development and streetscape works. The Elsternwick Cultural Precinct Vision is for 'an active and thriving meeting place known here and abroad for its diverse mix of cultural experiences and as a wonderful and welcoming local place for everyday life'.
The revitalisation of the Precinct includes a range of linked initiatives that align with this vision. These include:
Council-led upgrades to the streetscape and public realm
Expansion of the Jewish Holocaust Centre with $10 million in Commonwealth Government funding
Relocation of the Jewish Museum
Upgrades to Kadimah Jewish Cultural Centre and National Library
Establishment of the new Jewish Cultural and Arts Precinct with $1.5million in funding from State Government
Other local stakeholders including the Classic Cinema, have also actively explored opportunities to renew and redevelop.
What is the next stage?
At the Ordinary Council Meeting on 27 April 2021, Council endorsed a revised Elsternwick Cultural Precinct Functional Arrangement and Precinct Design (Concept Design) which was prepared in consultation with the Elsternwick Cultural Precinct Advisory Committee (ECPAC). Council also supported the commencement of further design work to develop a more detailed design of the precinct.
This work is occurring in consultation with the Elsternwick Precinct Advisory Committee, comprised of representatives from:
Jewish Holocaust Centre
Jewish Arts Quarter (JAQ)
Sholem Aleichem College
Classic Cinema
Community Security Group
Traders' Association
Resident representation
Established in 2019, Committee members are partnering with Council to oversee the design and align plans for their organisations with the Vision for the Precinct.
The Committee's role includes commissioning artwork for the centre that will commemorate survivors of the Holocaust. An artist has been appointed to undertake this work.
When will designs be ready?
View the endorsed Precinct Design: Elsternwick Cultural Precinct Functional Arrangement (PDF 7Mb)
"Key Moves", page 6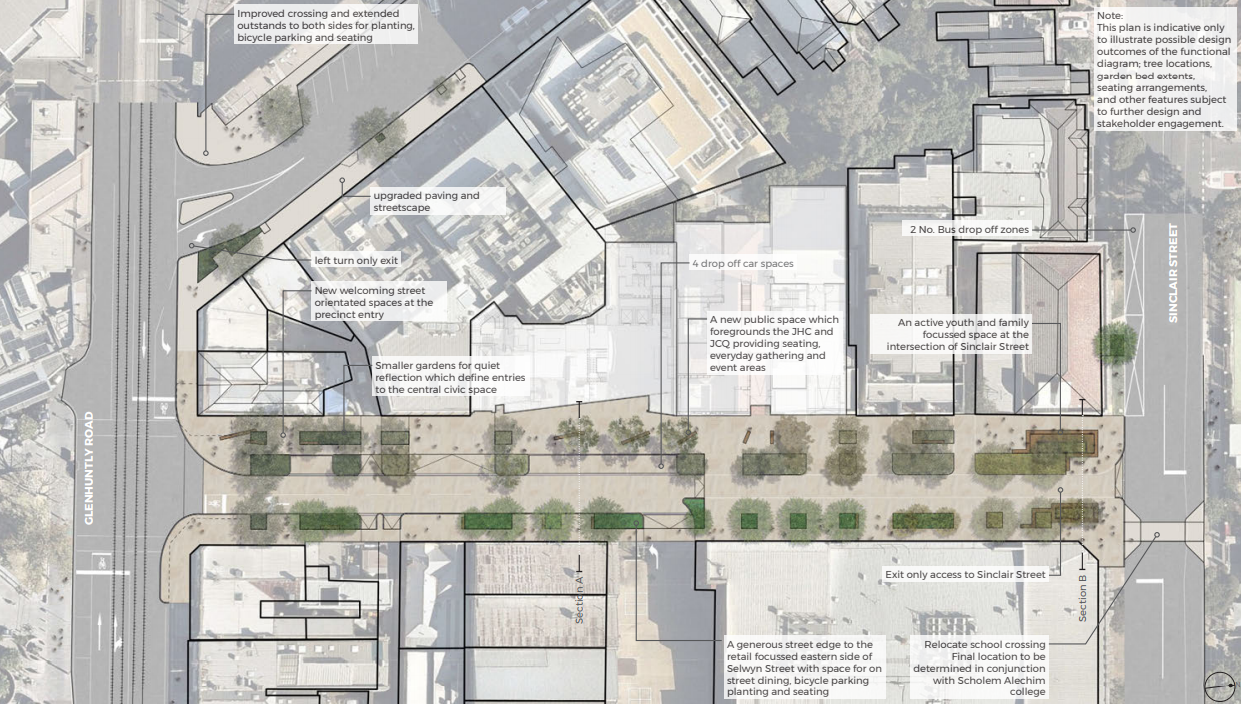 While full implementation of this project is not possible right now due to other changes planned for Selwyn Street over the next couple of years — this endorsed Precinct Design provides clarity to allow further detailed design to progress.
We will continue to provide updates as the project moves forward with design.
Construction of the various buildings for local cultural institutions are to be determined by the landowners and the permit processes. At this stage of the project, timeframes for construction have not been determined.
Background
Council has endorsed a part closure of Selwyn Street to allow vehicles to enter and exit Selwyn Street from both Glen Huntly Road and Sinclair Streets, however vehicles will not be permitted to pass through due to the mid-block closure.
Special Council Meeting was held on Thursday 11 April 2019 where interested parties had the opportunity to formally speak in support of their submission with respect to the proposal to introduce a mid-block closure to Selwyn Street.
At an Ordinary Council meeting held on 30 April 2019, Council considered all submissions received during the stated public notice period. Council resolved to proceed with the mid-block closure to Selwyn Street, pending a detailed precinct design before any traffic changes are implemented.
The Elsternwick Cultural Precinct is a project outlined in the Elsternwick Structural Plan.