Nature Next Door — Citizen Science Program
Become a citizen scientist and get involved in collecting scientific data on local biodiversity.
What is Nature Next Door?
Nature Next Door is a citizen science program that brings the community together to learn about and celebrate our natural environment. We need everyone's help to collect data on the insects, frogs and birds that call Glen Eira home. Almost half (46%) of Australia's threatened wildlife is actually found in cities. It is critical to understand biodiversity in urban environments in order to protect it.
How can I get involved?
Here's how you can get involved in Nature Next Door this summer.
Glen Eira BioBlitz
This summer, join the Glen Eira BioBlitz and do your own monitoring in your backyard, school or local park. All you need to do is download the free iNaturalist app and record your observations of any wild animal. You can record a photo of an animal or their sound. If you're not sure of the species, iNaturalist will make suggestions. The data will be recorded in the Atlas of Living Australia, a national biodiversity database.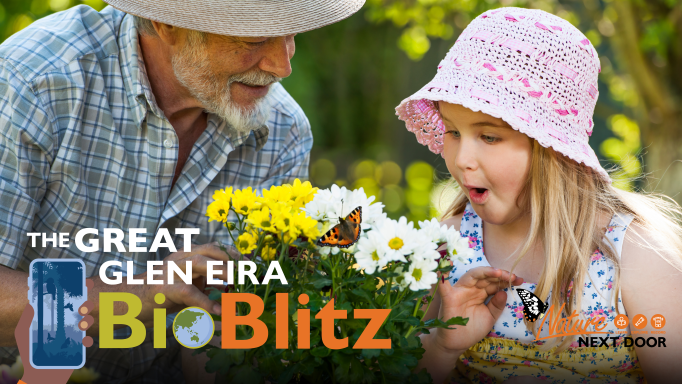 Pollinator observatories at Rippon Lea Estate
We've set up pollinator observatories at Rippon Lea Estate in Elsternwick where you can record your wild animal sightings. Australia has lots of wild pollinator insects that are often overlooked. European honey bees get a lot of attention because they are an adaptable and generalist forager. However, many native insects also play an important role in pollinating crops and gardens all around the country. Download the Bug Hunt Data Sheet, or collect one at the Ticket Office.
Nature Explorer Backpack
Visit a Glen Eira Library, and borrow a nature explorer backpack. The backpacks are filled with fun and educational tools for learning about and celebrating our natural environment. Spot birds with binoculars, track mammals at night with a torch, inspect insects and plants under a microscope and record your findings in your very own nature explorer journal. The backpacks can be rented from all Glen Eira Libraries and are suitable for children aged six to 12.