Field Street Precinct - Planning Scheme Amendment C197glen
What does the amendment do?
The Amendment seeks to apply a Heritage Overlay (HO188) to the precinct.  The Amendment also includes the Statement of Significance for the precinct as an Incorporated Document in the Schedule to Clause 72.04.
The Field Street Precinct, encapsulating properties at 1-37 and 2-30 Field Street, Bentleigh, comprises 35 detached dwellings along both sides of the street.  This building stock consists almost entirely of single-storey brick and timber houses from the mid-1920s to the late 1930s; two more houses in similar styles appeared in the late 1940s, while the sole property of more recent origin is a pair of strata titled 1990s dwellings at No 24/24a.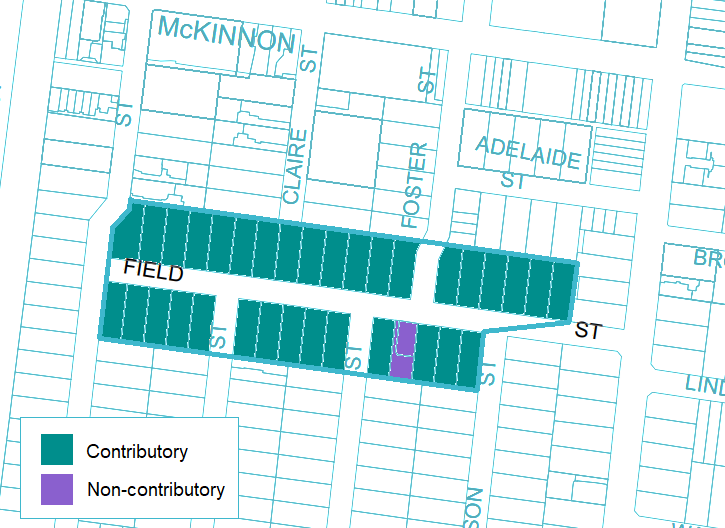 Why is the amendment required?
The amendment is required to protect Field Street Precinct which is of cultural heritage significance to the City of Glen Eira.
Council engaged heritage consultants, Built Heritage Pty Ltd to review the area to ascertain its heritage value. The significance of the precinct was assessed against the standard criteria contained within Planning Practice Note 01 Applying the Heritage Overlay (August 2018) and are considered to meet the requirements and threshold for local protection through the Heritage Overlay. 
A heritage citation was adopted by Council on 24 September 2019. The Citation for Field Street Precinct confirms the precinct meets the threshold for local significance and satisfies Criterion A (historic significance) and Criterion E (aesthetic significance).  Amendment 197glen is required to implement the findings of the citation. The citation (attached Amendment Documents below)  includes a history and physical description of the area as well as the Statement of Significance which answers:
What is significant?
How is it significant?
Why is it significant?
The Heritage Overlay is the appropriate planning mechanism to protect the heritage values of this precinct as the Heritage Overlay requires a planning permit to be granted for buildings and works, including demolition, that could affect the significance of the precinct.
Directions Hearing
Due to COVID-19 and the associated physical distancing requirements, the Directions Hearing for Glen Eira Planning Scheme Amendment C197glen will proceed by video conference on 7 July 2020 at 10am.
Parties to the Hearing have been contacted by Planning Panels Victoria regarding these arrangements. The Panel will hear this matter in an open forum, consistent with its obligation to conduct hearings in public.
To observe proceedings, you can access the live stream below. If you have any questions, please contact Planning Panels Victoria at planning.panels@delwp.vic.gov.au.
As with in-person hearings, please be advised that the Hearing must not be recorded in any part or in any way without permission from the Panel. This includes audio and video recording.
Details for the Main Hearing will be published here when they are available.