Significant local artists
A number of significant Australian artists and families have lived and worked in the City of Glen Eira since 1913.
The Murrumbeena Boyds
The Boyd family is one of Australia's most celebrated artistic dynasties, and their association with the City of Glen Eira spans four generations. From 1913 to 1964, members of the family lived and worked together in a collection of properties at the end of Wahroonga Crescent, Murrumbeena. It includes some of Australia's best-known creative identities, including painter Arthur Merric Boyd, sculptor Guy Boyd, architect Robin Boyd and novelist Martin Boyd.
The story started with William Merric Boyd (1888–1959), who with his wife Doris and their family lived and worked in Murrumbeena from 1913 to 1959. His parents artist's Arthur Merric Boyd (1862–1940) and Emma Minnie Boyd (1858–1936) established a studio residence for him at 8 Wahroonga Crescent, Murrumbeena which he called Open Country. Merric eventually settled down as a ceramicist. He took drawing lessons at the National Gallery of Design under Frederick McCubbin and worked at the Australian Porcelain Insulator works from 1912 to 1914.
Merric established a kiln and pottery studio in Murrumbeena, where he produced the first art pottery in Australia. Although a gifted potter, he lacked business awareness and his family largely relied upon financial assistance from his mother, Minnie Boyd. After Merric passed away in 1959, Doris remained at Open Country until her death in 1960. Lucy and Hatton Beck returned to Open Country and established a pottery school, running exhibitions and classes until 1963. In early 1964, a significant part of Australia's cultural history was lost when the house was sold to a development company, demolished and replaced by 16 units.
Merric's children became significant names in Australian art. Lucy Boyd Beck (1916–2009) was a painter and ceramicist, Arthur Merric Bloomfield Boyd (1920–1999) a leading painter, Guy Boyd (1923–1988) a sculptor, while David Boyd (1924 –2011) and Mary Elizabeth Boyd (Lady Mary Nolan) (1926–) were also painters. Mary was first married to John Perceval and then to Sidney Nolan.
Paintings, ceramics, sculpture, drawings and watercolours by William Merric Boyd, Arthur Boyd, Emma Minnie Boyd, Guy Boyd and Martin Boyd are represented in the Glen Eira City Council art collection and other public gallery collections including the National Gallery of Victoria and the National Gallery of Australia.

References: Paul Magin, Catalogue essay. The Murrumbeena Boyds. Just Like Us: but different. Glen Eira City Council Gallery, Melbourne, 2006; Brenda Niall, The Boyds, Melbourne University Press, July, 2002.
George Johnston
George Henry Johnston OBE (20 July 1912–22 July 1970) was an Australian journalist, war correspondent and novelist, best known for his trilogy of semi-autobiographical novels: My Brother Jack, Clean Straw for Nothing and A Cartload of Clay.
George was raised in Elsternwick and attended local schools, evident in My Brother Jack which details the Elsternwick and Ripponlea areas between the world wars.
He had four children, daughters Gae and Shane and two sons Jason and the poet Martin Johnston. From the names of his children, he created the pseudonym Shane Martin, under which he published five novels.
George Johnston was appointed an Officer of the Order of the British Empire (OBE) in 1970 for services to literature. He died later that year, aged 58.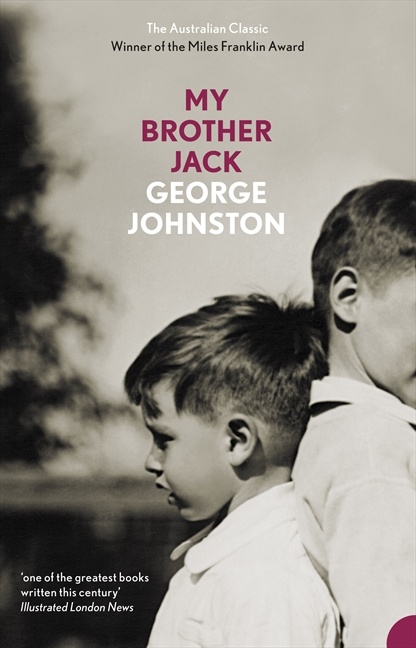 Erica McGilchrist
Erica McGilchrist (born in Mt Gambier in 1926, died in Melbourne in 2014) was a highly regarded artist as well as an educator, environmentalist and activist for women's art, co-founding the Women's Art Register in 1975. She lived and worked from a studio in Caulfield for more than 40 years. Her 1995 solo exhibition Erica McGilchrist — Artist, Feminist and Humanist featured selected major works created between 1951 and 1995. A retrospective of her work Erica McGilchrist: Selected Works 1951–1995 was held at Heide Museum of Modern Art from 23 October 2013 to 30 April 2014.
Erica's work is well represented in our art collection, after she donated more than 70 artworks to our art collection in 2001. These works include paintings, drawings and textiles that encompass the environmental, feminist and humanitarian themes she explored. Her 1970 work Trio, from the Enigmas series, is considered a major painting in her career.