Glen Eira City Council celebrates the festive season with carols in the picturesque grounds of Rippon Lea Estate.

Join us for an evening of music, entertainment and fun for all ages.
Hosted by Rob Mills and Lucy Durack, enjoy festive tunes from a stellar line-up of performers, including:
Pirritu
Alma Zygier
Glen Eira Brass Band
Invictus Quartet
Andrew de Silva and the Compass Church Band
Australian Children's Choir
Bluey Live Christmas Experience
…and maybe even a visit from Santa!
Gates open from 4.30pm, with plenty of roving entertainment and fun for kids of all ages. Bring a picnic or grab dinner from one of the many food trucks on offer.
This is a FREE event. Bookings are recommended with limited walk-ups available. The event will also be live streamed for those who wish to watch online.
Carols in the Gardens is now booked out. Click the link below to join the waitlist.
*Please note there will be limited capacity for walk-ups from 5.30pm onwards.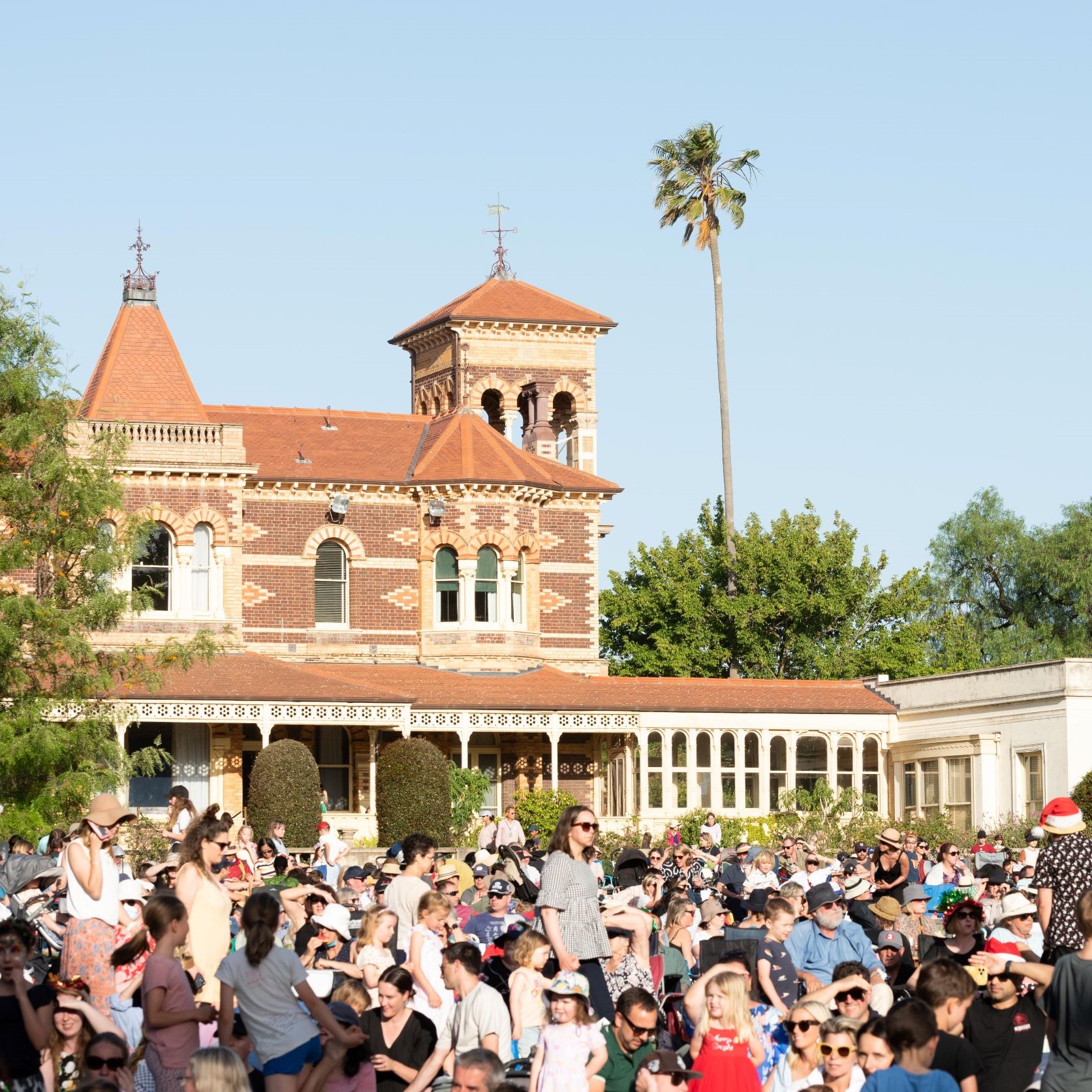 Where and when is the event?
Carols in the Gardens is being held at Rippon Lea Estate (192 Hotham Street, Elsternwick) on Friday 16 December. Gates open from 4:30pm with the main event running from 6pm until 9pm.
The entrance is located on Hotham Street near the corner of Elm Street.
Do I need to book for this event?
This event is free to attend. Bookings are encouraged and there is a limited number of walk-up capacity available on the evening. To guarantee your spot, we encourage you to book into this free event via try booking. 
* Bookings are not required for children under 2 years.
We all know Melbourne weather can be unpredictable! This is an outdoor, evening event so please keep an eye on the forecast and dress appropriately for the conditions.
The event will be held within the gardens of Rippon Lea Estate and seating is not provided. We strongly recommend guests bring their own picnic blankets to sit on as the ground may be wet.
Guests who BYO chairs will be allocated towards the back of the event space, so that all children and guests sitting on the ground can see the carols without obstruction of chairs.
Increased parking spaces for those with an Australian Disability Parking Permit will be available alongside the perimeter of Rippon Lea Estate (within the traffic-controlled areas). 
The event space is within the gardens of Rippon Lea Estate, with large grassed areas and gravel paths circulating the space. This map highlights wheelchair accessible paths.
Accessible toilets are available at the venue.
Auslan interpreters will be on stage and on the big screens, as well as song lyrics at the bottom of each screen.
We are more than happy to assist if you have access requirements in order to participate in the event. To discuss your access requirements with a Glen Eira staff member, please contact the Arts and Culture team via phone 03 9524 3333 or email arts@gleneira.vic.gov.au
Are there any road closures or traffic changes to know about?
There is limited parking available in the streets surrounding Rippon Lea Estate. We strongly recommend walking, cycling, or catching public transport wherever possible.
The closest stations to the venue include Rippon Lea Station (approx. 8-minute walk) and Elsternwick Station (approx. 10-minute walk).
Will there be food and drinks available for purchase?
Yes, there will be a range of different food and drink options available to purchase from food trucks on the evening. Options include:
Turkish Gozleme
Flying Calamari
O Tuga Taste of Portugal
Little Pancake Patch
Melbourne Ice cream Vans
Franklin Coffee
Lions Club (Sausage sizzle)
Travel n Pizza
Guests are also welcome to bring along a picnic (no glass please).
Dogs and pets are not permitted within the grounds of Rippon Lea Estate (service animals excluded).
Yes, prams are welcome but will be asked to be folded down if sitting within the central lawn area.
Can I smoke at the event?
No, all Glen Eira City Council events are smoke-free.
Will the event be called off if it's raining?
This is an outdoor event and in the case of heavy rain or dangerous weather, the event may need to be cancelled in the lead up to, or on the day of the event. We will contact all guests via the email provided at the time of booking if this happens.
Follow us on the Glen Eira Council's Art and Culture Instagram and Facebook pages for up-to-date information.
What happens if my child gets lost?
Please alert a Glen Eira City Council (uniformed) staff member or security guard if your child is lost. The Glen Eira City Council Information marquee (located at the end of the entrance driveway, closest to the food trucks) is the meeting point for lost children. 
All Glen Eira City Council's staff members and security guards are trained in lost child procedures.
Is there medical help available if needed?
St John Ambulance staff will be on-site at Carols in the Gardens.
What is the entertainment?
Carols in the Gardens is hosted by Lucy Durack and Rob Mills with live performances by our hosts as well as; the City of Glen Eira Band, Australian Children's Choir, The Bluey Live Christmas Experience, Pirritu, Alma Zygier, Andrew de Silva and The Compass Church Band, Invictus Quartet, and roving performances.
Free face painting is also available on the evening until 8.30pm.
There may also be a special guest in red and white for a merry evening of entertainment.
Will there be a songbook available on the night?
There won't be a printed version of the songbook available, however all lyrics will be displayed on the large screens.  
Will the event be live streamed?
Yes, we will be live streaming the evening's entertainment on the event website. Check back here on the night for viewing from 6pm. You can also listen to a simulcast on 88.3 Southern FM.
We ask that you do not attend Carols in the Gardens if you feel unwell or are showing any COVID-like symptoms (fever, sore throat, runny nose, cough, or shortness of breath). 
While at the event, remember to wash and/or sanitise your hands regularly.