Citizen and Community Group award winners 2021
We hosted our annual Community Awards 2021 on Thursday 20 May at two ceremonies at Glen Eira Town Hall.  
As part of the events, we presented our annual Citizen of the Year, Young Citizen of the Year and Community Group of the Year Awards. The Awards recognise residents and community groups in the City of Glen Eira who have significantly contributed to the local community.
Twenty-eight individuals and community groups were nominated for Citizen, Young Citizen and Community Group of the Year, as well as two very special award winners for Outstanding Service, Contribution or Achievement — COVID-19 Pandemic.
Council would like to thank the volunteers at Bentmoor Men's Shed for hand-crafting this year's awards. The awards are made of redgum and decorated with copper. The birds symbolise the soaring achievements of the recipients, and the reflection pool reminds us of the importance of looking back over the year and acknowledging the wonderful work being done by community members.
We also presented its Volunteer Recognition Program Certificates of Appreciation to 106 volunteers:
29 people for 500 hours of service

17 people for 1,000 hours of service

17 people for 2,000 hours of service

31 people for 10 years of service

11 people for 20 years of service

one person for 40 years of service.
Young Citizen of the Year — Laura Cucè
Laura Cucè from Caulfield North is a gracious and outstanding young leader in her community, who has been nominated by her teacher at Shelford Girls' Grammar. Laura is highly-motivated academically, and the personal responsibility she demonstrates for her learning and academic growth and development makes her a role model for both younger students and peers. Being a role model is terrific, however Laura also possesses an abundance of kindness and positivity that leads her to assist others and share her skills and gifts in practical ways.
She is a model of respectful relationships and is warm and welcoming to all new members of her school community. Laura is always happy to help out at any school event, often to be found behind the scenes ensuring the event's success.
Laura possesses strong perceptive skills shows her creativity through her approach to problem solving and sharing of ideas. Above all, Laura has the personal courage to lead others without demanding reward or recognition of herself, which is the mark of true community leaders and there is no doubt that Laura will make a positive difference to her society throughout her life.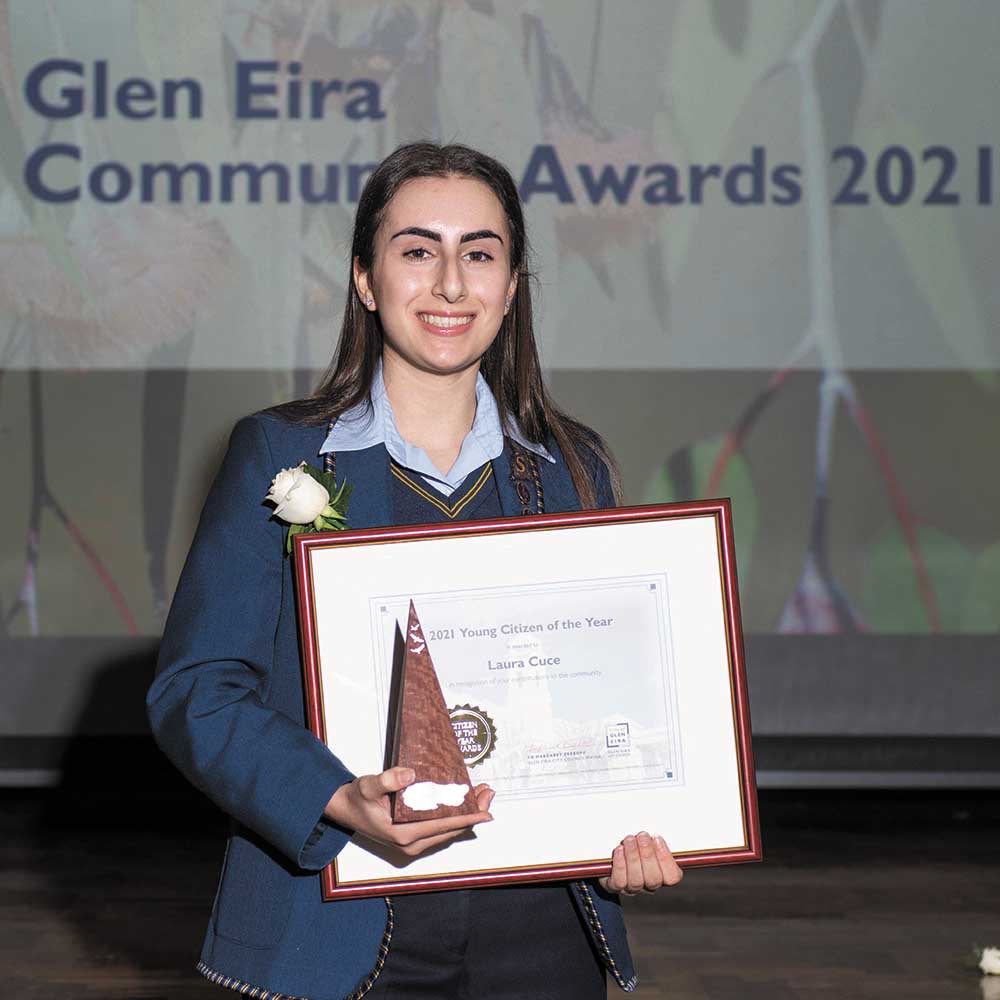 The finalist in this category was Sahiti Ravi from Bentleigh East
Sahiti has demonstrated her outstanding leadership skills through her volunteering outside of her university commitments. These include her involvement in Glen Eira's Youth Leadership Team, her volunteering as a toy librarian, as well as her work as the marketing co-ordinator at Robogals Monash, a not-for-profit student run organisation that works to bridge the gender gap and increase diversity in STEM fields.
---
Citizen of the Year — Gwen Fitzgerald
Gwen Fitzgerald from Caulfield South has dedicated the last decade to helping those in need in her community through her work in establishing Tony's Café. The Glen Eira community has benefitted greatly from Tony's Café, a small operation that provides meals, help in finding emergency accommodation, free showers and other necessities to vulnerable people in Glen Eira. Gwen and her team provide more than a warm meal. She brings people together and provides some respite from loneliness.
Gwen is the kind of person we should all aspire to be — kind, caring and supporting to those members of the community who need a helping hand.
During COVID-19, Tony's Café was one of the few local places where residents experiencing hardship could receive a fresh, hot meal and feel connected. Gwen really personifies what it means to live a life with purpose and has made an enduring and positive contribution to the Glen Eira community.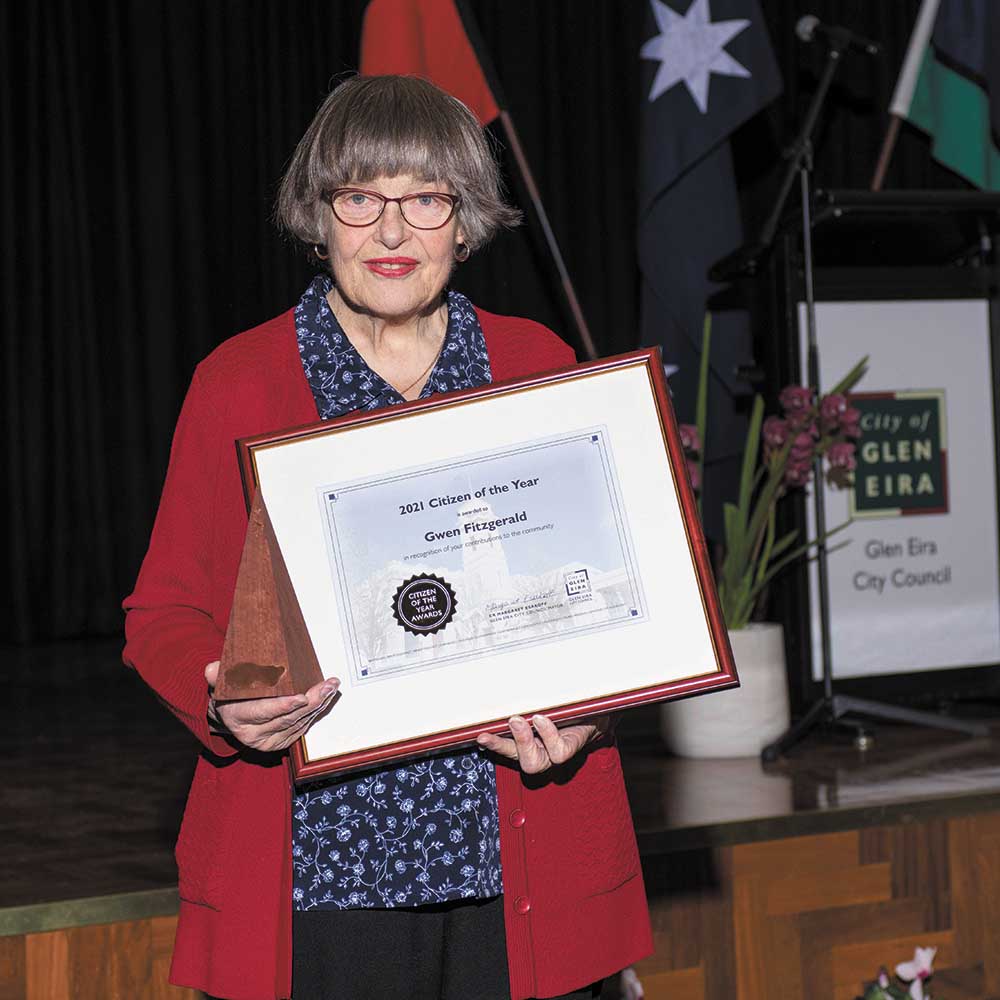 Finalists in this category were Jennifer Hunt from Caulfield and Kirsten Brooks from Carnegie
Jennifer initiated a platform for Zoom cooking classes to support the community through pandemic lockdown. Jennifer's cooking class initiative fostered inclusion, cultural diversity and most importantly, social opportunity for individuals and families.
Kirsten is the driving force behind the curation, development, management and ongoing nurturing of the Carnegie Community Laneways — Laz's Lane, Rita's Way and Glenhuntly Lane — a project she started in 2017.
---
Community Group of the Year — Moorabbin Area Toy Library
Moorabbin Area Toy Library has supported local families with the 'tools for play' for more than 30 years. Established in 1987, the not-for-profit organisation is located in Bentleigh East and is run by a dedicated and passionate volunteer committee and member volunteers.
The group's aim is to make sure that all families, regardless of circumstances, have access to quality toys that will support the changing developmental needs of children. They currently have 150 member families, which means they are supporting approximately 450 residents.
In 2020, after a brief period of closure, they quickly adapted to the new COVID environment by offering a Click & Collect service to all members. This required a huge amount of behind the scenes work by the volunteer committee who run the library, who put in place new systems and safety protocols and updated online catalogues to streamline virtual borrowing. The Library also offered a home delivery and pickup service for those who couldn't leave their homes. This ensured that all families were able to access toys, games and puzzles to keep their children stimulated and active during the Melbourne lockdowns.
Accepting the Award on behalf of Moorabbin Area Toy Library was Renate Axford.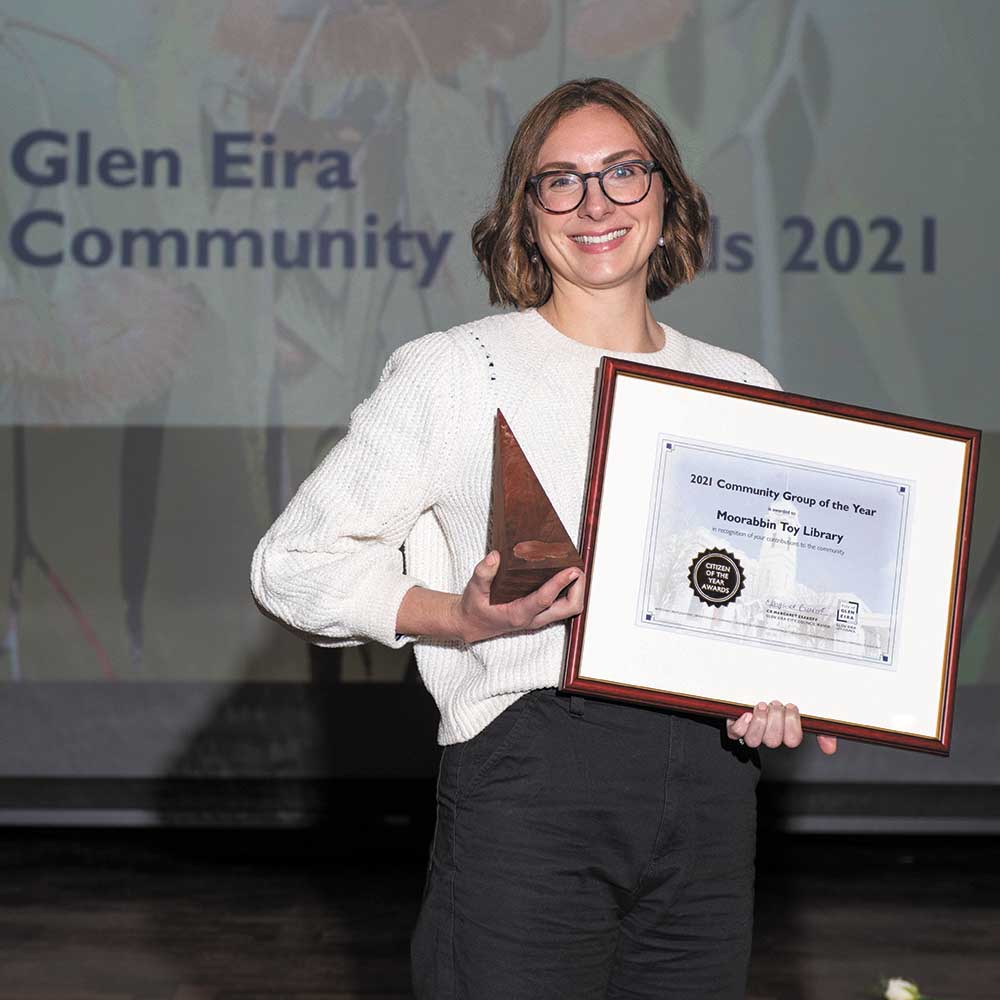 ---
Outstanding Service, Contribution or Achievement During the COVID-19 Pandemic — Samantha Bihary
The Glen Eira community has benefited greatly from the projects Sam has initiated in her neighbourhood.
After letterbox dropping a message of introduction and support, Sam set up a local WhatsApp group of residents willing to provide assistance to fellow neighbours in need. The group — called MyNeighbours — grew to more than 150 members, and continues to share advice, resources and practical help.
Through the MyNeighbours group, Sam was able to co-ordinate neighbourhood celebrations. On birthdays she organised for footpaths and front gardens to be decorated with messages of joy.  When new babies were born, she co-ordinated delivery of welcome hampers filled with gifts donated by local community members. 
The MyNeighbours group was also the springboard for Sam to set up a cooking roster during lockdown called MOTTY (My Own Table, To You), to provide home cooked meals to those neighbours who were in lockdown on their own — either living alone or as single parents.
Sam also launched (and continues to run) the Cabinet of Kindness, a super-sized street library outside her home, filled with donations by neighbours, for neighbours. Located at 31 O'Loughlan Street in Ormond, the Cabinet is restocked daily with everything from freshly picked fruit and herbs, to boardgames, movies, and of course books galore. Neighbours can browse around the clock, and those unable to visit easily can reserve books via Instagram.
Sam's attitude, positivity, optimism and kindness have given people something to aspire to, and she embodies doing good for our community.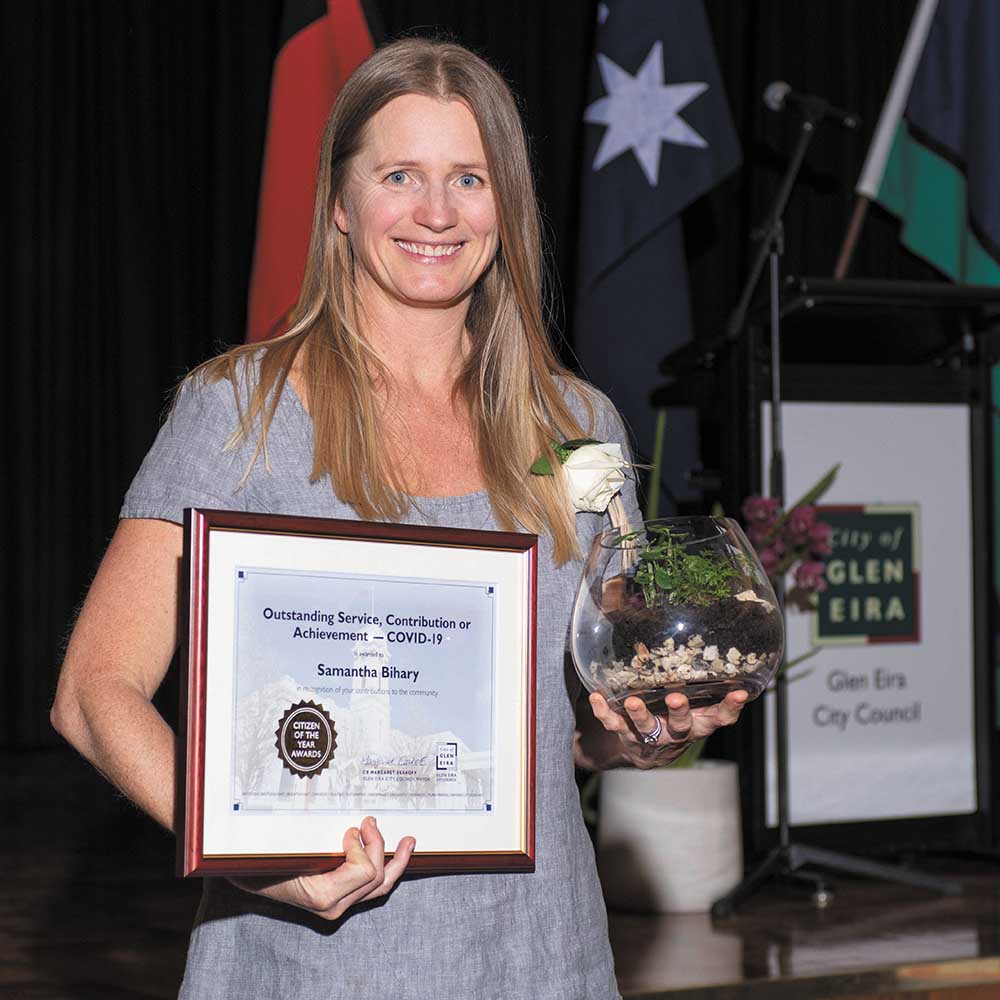 ---
Outstanding Service, Contribution or Achievement During the COVID-19 Pandemic — Connect Health and Community Volunteer COVID-19 Response Team
The Connect Health & Community Volunteer COVID-19 Response Team in Bentleigh East willingly stepped up to the rigours of COVID-safe training, practices and volunteering by spending hundreds of hours: 
providing Glen Eira residents with vital medical transport to and from appointments — 631 trips from March to December 2020
transporting residents to social support activities at Connect Health & Community when permitted
assisting at the Bentleigh East COVID-19 screening station to ensure a safe environment for all Connect Health & Community volunteers, clients and staff
sewing more than 180 reusable masks for vulnerable residents
making themselves available for client contact during lockdown
delivering Years of Service Awards to volunteers in lieu of the normal National Volunteer Week onsite event.
The Connect Health & Community Volunteer COVID-19 Response Team also provided 790 hours of knitting and sewing between July and September for members of the local community.
The volunteer team ensured on-going client access to vital medical services and PPE supplies, maintained COVID-safe practices to provide a safe environment for all residents and assisted with social support engagement whenever restrictions permitted.
In addition to all the support given to the City of Glen Eira, the Connect Health & Community Volunteer Team's generosity extended to other projects further afield such as Bayside Community Emergency Relief (sewing 150 bags for children fleeing domestic violence) and the Food for Change Program.
Accepting the Award on behalf of the Connect Health and Community Volunteer COVID-19 Response Team was Peri Boztepe.